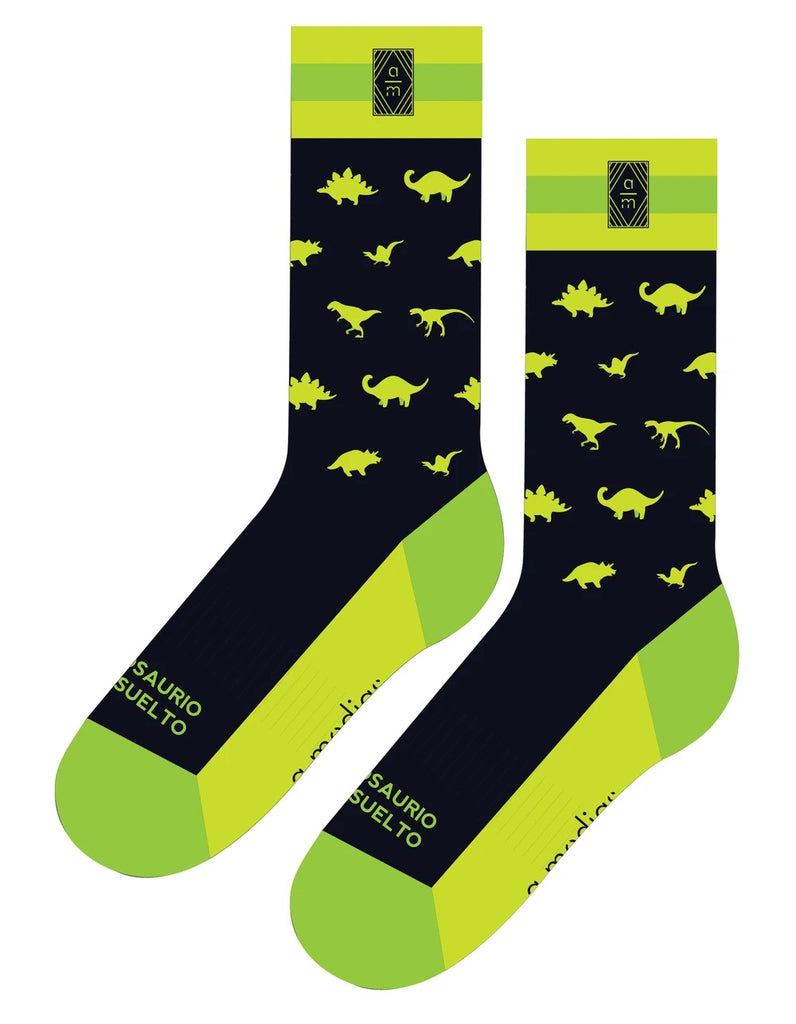 A MEDIAS - Mi Dinosaurio Anda Suelto by Silverio Pérez

The dinosaur is a recurrent image which Silverio uses as a metaphor to refer to the untamed aspect of our minds in his beloved inspirational books. He imbues the image of the dinosaur with wit and humor to remind us to not let our emotions get the best of us. Whether you're running loose or just simply like dinosaurs, feel fun and playful every time you rock these socks.
With this purchase you will be contributing to the non profit organization 
'Rondalla de Humacao
'. 
Silverio Pérez is a well-known TV and radio personality, as well as a musician, composer, press columnist and writer of 13 published books. He is a founding member of two of the most iconic musical groups in Puerto Rico: neo-folk music group Haciendo Punto en Otro Son and the political satire group Los Rayos Gamma. He also serves as a motivational speaker.
La imagen del dinosaurio es una que el autor Silverio Pérez utiliza en sus libros como metáfora de la parte irracional de nuestra mente. Él hace uso de ese animal pre histórico con ingenio y humor para recordarnos que el ser humano tiene el poder de controlar sus emociones. Ya sea porque tu dinosaurio anda suelto o simplemente porque te gustan los dinosaurios, te invitamos a que te diviertas y juegues cada vez que te pongas estas medias.
Con esta compra estarás contribuyendo a la  Rondalla de Humacao.
Silverio Pérez es una personalidad reconocida de la radio y la televisión, además de músico, compositor, columnista de prensa y autor de 13 libros publicados. Es miembro fundador de dos de las agrupaciones musicales más icónicas de Puerto Rico: el grupo de música neo-folclórica Haciendo Punto en Otro Son y el grupo de sátira política Los Rayos Gamma. También se desempeña como orador motivacional.
---
---
More from this collection